Lead Logics builds new websites, as well as renovating and updating older websites, or websites that don't work. Websites that don't work means they don't rank, receive calls or emails.
SEO Data Tracking
Tracking ranking data via Google Analytics or Mangools shows where the website is ranking in Google for the targeted keywords, which keywords the business is being found for and much more.
DIY Websites Are Expensive Projects
The most expensive exercise website owners can ever undertake is build their own website with simple DIY platforms such as WIX, or a family member builds the site.
Why is it an expensive exercise? Because over time you lose hundreds of thousands of dollars in lost revenue when the site sits on page 2, 3, 4 or 5. No one visits those pages.
People spend tens of thousands of dollars on buying their bricks and mortar business or stock for their online business, yet believe they are saving money on a DIY website.
The Difference Between Success Or Failure
A correctly optimised website designed using local SEO marketing, keyword research and relevant content and images can make the difference between failure or success.
Which would you prefer?
The websites we discuss below have been built implementing local business SEO marketing.  These case studies are the result of organic SEO practices, no paid Adwords campaigns.
Case Study 1. Ballarat Oven Repairs

Ballarat Oven Repairs is a lead generation website built for a local business offering oven repairs in Ballarat and Buninyong.
Ben is a local Ballarat electrician and wanted to get into the lucrative oven repairs business.
Ben's a Tradie, he wants easy
He sat down with us and discussed his idea and the services he wanted to target. However he didn't want the cost of having a website built and most definitely had zero interest in maintaining the site on a weekly basis.  He's a tradie with better things to do he says!
We do all the hardwork
The beauty of our exclusive lead generation service is we build the site, do all the hard work and once the website starts ranking, you start receiving calls direct to your phone. Lead Logics builds custom websites for tradies to get more work in your area.
You only pay for the leads you receive
We create an optimised online asset for your business at no cost to you. You receive exclusive customer leads at an agreed fixed cost per lead. You can upsell to your customers at no extra lead charge. You only pay for the leads you receive. You can read more about our lead generation service here.
Ben loves the service as he doesn't need to maintain the website, plus we look after the associated FaceBook page, posting on a regular weekly basis.
Ben receives around 100 to 150 oven repair calls a month
He receives anywhere between 5 to 16- 18 calls on a daily basis during the week. Like any smart tradie, he keeps his weekends free to spend with his family, knowing come Monday, his phone will start ringing with oven repair calls.
Organically ranking #1 and #2
Both the website and Facebook page rank #1 and #2 for the main customer search term.
He has access to his call tracking account and can strike out non relevant calls such as spam marketing. Below is the most recent call tracking data. There are 131 calls overall with 95 being unique. That's 95 new customers each month.
In essence you gain your own marketing manager, plus the life time value of each lead as there is a once off lead fee. Ben has many repeat customers from the once off cost of the initial lead with some jobs bringing $100's and $1000's in profit.
What we did
The SEO marketing campaign comprised several spects:
Installed a fast, mobile friendly theme
Built service specific pages
Built area specific pages
Installed call tracking
Weekly Facebook posts
Tweak onpage SEO based in Google Analytics data
As these lead generation website rank organically, there are no expensive Adwords campaigns and no ongoing work.
Call Tracking Data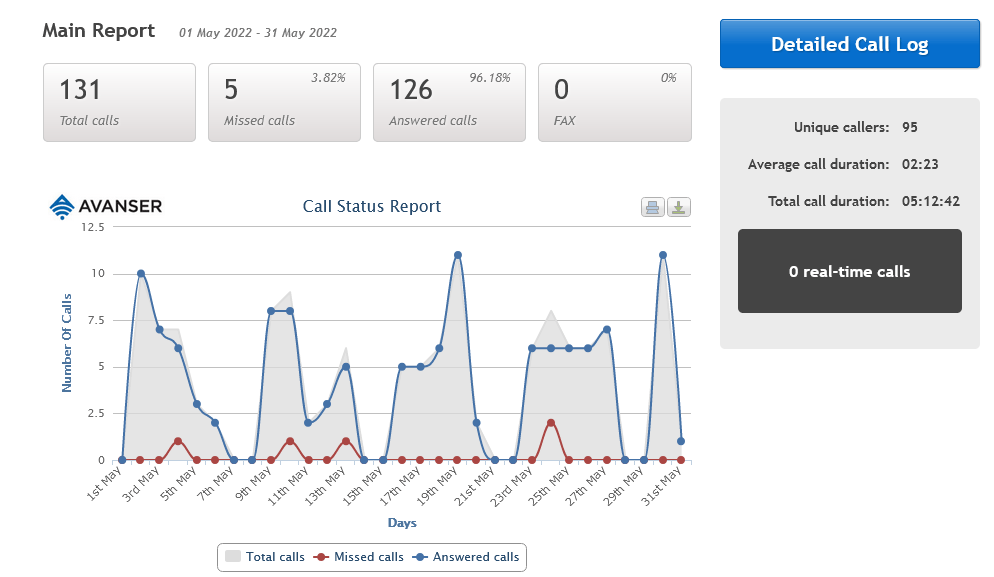 Case Study 2. Lakeside Heating and Cooling Pakenham
Lets take a look at this case study for a local business website based in Pakenham, Lakeside Heating and Cooling. We implemented a strategic SEO optimisation campaign based on the services they offer which are sales and installations of split system air conditioners in Pakenham and surrounding suburbs.
This website renovation began in February / March 2022.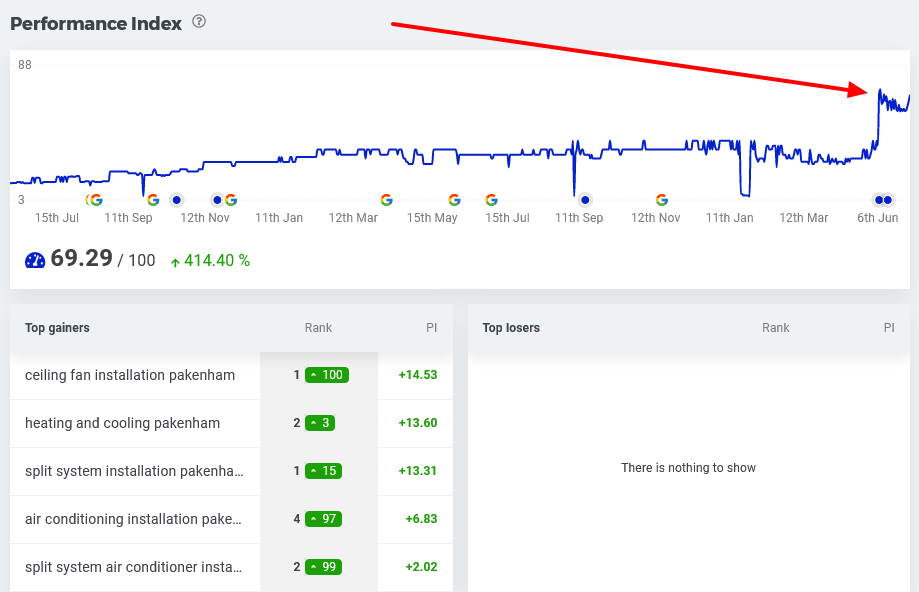 Which SEO keywords?
Great question! Which keywords are most likely to convert to customer calls? By spending time researching the most relevant buyer keywords most likely to convert using paid keyword search tools, a relevant list of keywords was compiled such as "split system air conditioner installation Pakenham" and "ceiling fan installation Pakenham"
This is an interesting field as we needed to determine which keywords were organic search terms potential customers typed into Google looking for a solution, sales and installations, or only split system installations.
Make it clear to customers and search engines what your business is
While Lead Logics builds new websites, we also renovate a lot of websites which don't convert.
So often we hear stories from website owners upset they rarely get calls or emails. On undertaking a website analysis, our team often find they are over optimised for their business name, and even more astonishingly their specific product or service isn't mentioned.
People aren't necessarily looking for your business, they are looking for an answer to a problem. It's crucial to serve the answer up in the form Google understands and then shows your website in the rankings.
Why wasn't this website getting more calls?
  The main keyword this business was targeting was "heating and cooling" when in fact their core business is sales and installing split system air conditioning systems, along side service and repairs and ceiling fan installations.
The search term " hearing and cooling" is all very well, but what service does that cover? Is that gas ducted heating, split systems, ceiling fans, multi head systems, underfloor heating, hydronic heating?
AS mentioned earlier, their core business is sales and installations of split system air conditioners in Pakenham and surrounding suburbs.
Not gas ducted heating, multi head systems, underfloor heating or hydronic heating.
Write engaging content
By writing fresh easy to read engaging content and including the relevant keywords, labeling the images as Google as yet can't understand what an image is.
What was the plan moving forward?
By working closely with the business owners we determined the following factors needed improving:
A fast, mobile friendly theme as the majority of Google searches are performed via mobile search
Clickable phone number
Clear, easy to see call to action. Here's the phone number to call, here's the contact us page to email questions
Redesign the site. Improve the website layout and include relevant images
Space text by removing hard to read, large blocks of text and added sub titles to for visual ease
Build service area pages so Google knows which suburbs they service
Build service specific pages so Google understands precisely what the service is
Add content which targets the identified main keyword with supporting smaller volume keywords so website visitors and Google understand exactly what's on offer.
As can be seen in the graph, by implementing these strategies the business is now ranking at #1 and #2 for the core services they wanted to be found for. Those core services are "split system installation Pakenham" and "ceiling fan installation Pakenham"
For The Best In Web Design Services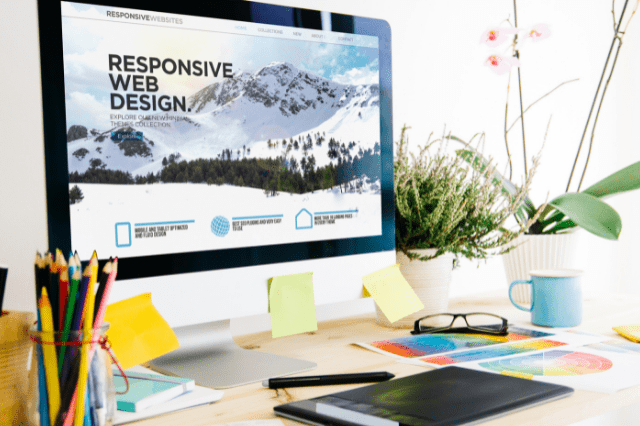 Web Design
Is your business being found? Internet search results are the fastest digital road map to your business success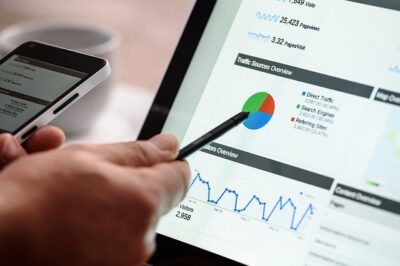 Local Lead generation
By engineering positive search results in Google, our lead generation websites naturally attract customers who need your services.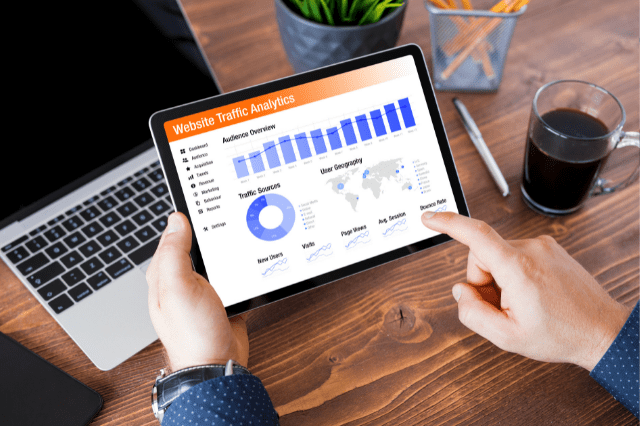 Local SEO Services
If your business does not appear in the top 1-3 results on the first page of Google, it's pretty much invisible online to your customers.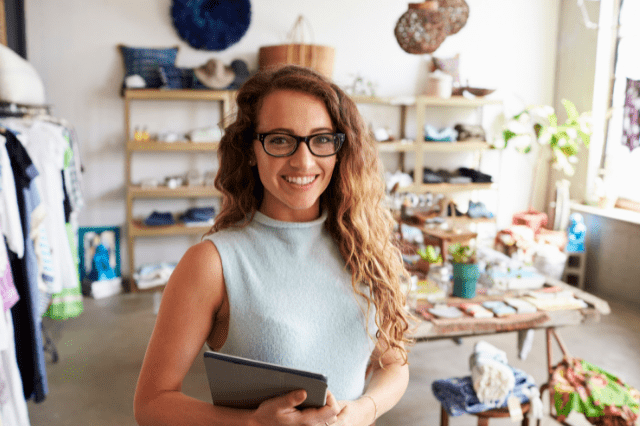 Web Design with a Purpose
Each local website we design has a core purpose. What is that purpose? To target your niche specific clients and customers who want your services, with the purpose of converting visitors into paying customers. Your website will be compatible on desktop, mobile search and tablet devices.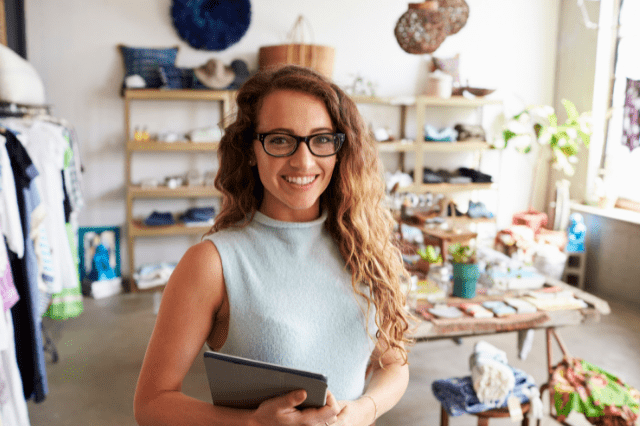 We work to deliver fast, mobile friendly websites Google likes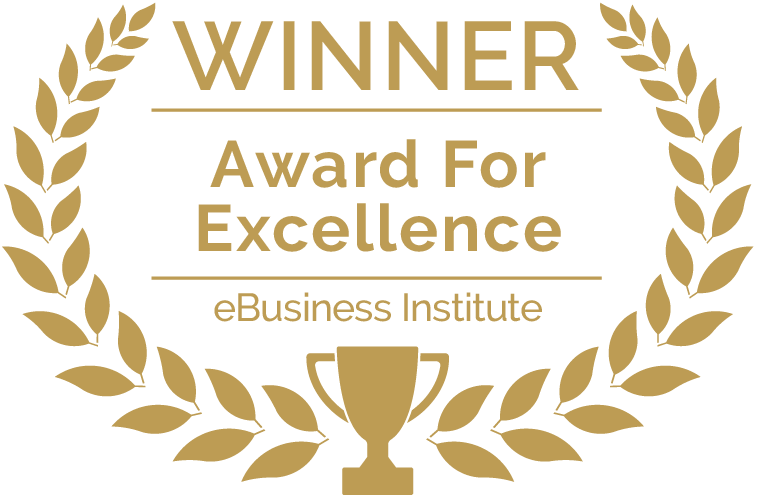 Award Winning Website Design Company
Our mission is to support small to medium businesses in their quest to be the best successful local business they can be, from Mum and Dad start-ups and online SME's to larger establishments, and everyone in between.
We're all about helping your business get found
Request Your Free Website Strategy Session Now
SEO Website Design & Content Marketing
Your website should be a clever combination of Google recognised search terms, careful placement of headings and sub-headings, and optimised images. This is SEO – Search Engine Optimisation – the holy grail to all website creators.
Webmaster Management & Website Security
We have the knowledge and experience to build websites that people will find quickly, whatever device they are using. Your business is in front of your target audience in a matter of seconds whether they are on their phone, tablet, laptop, or desktop.
WordPress Website Development
Your website is the welcoming committee to your business. It's where your visitors get to know, like and trust you. A well-structured, well-designed, and well-written website confirms the authenticity of your business, your credibility, and ultimately attracts more customers
Chriss Smith
Chriss has been a website designer since 2012, with a strong background in local SEO services, lead generation websites & communications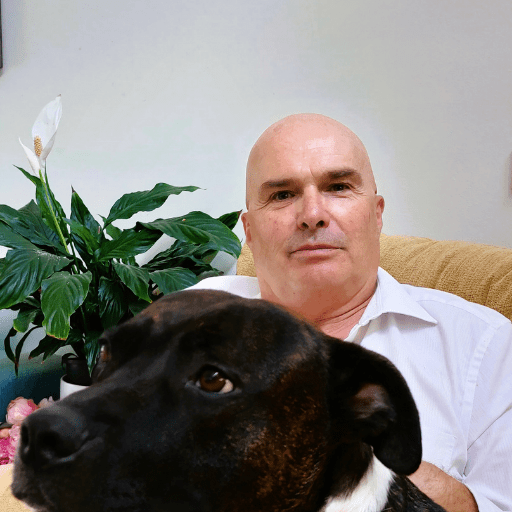 Mark Smith
Mark's areas of expertise are SEO, digital marketing and Adwords campaigns. He is a member of Small Business Mentoring Victoria & Victorian Chamber Of Commerce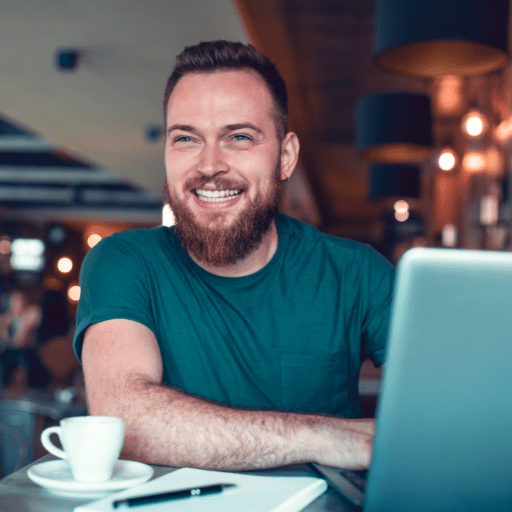 Luke Phillips
Graphic artist, logo and creative design. Luke brings years of experience in the graphic arts field in Australia and overseas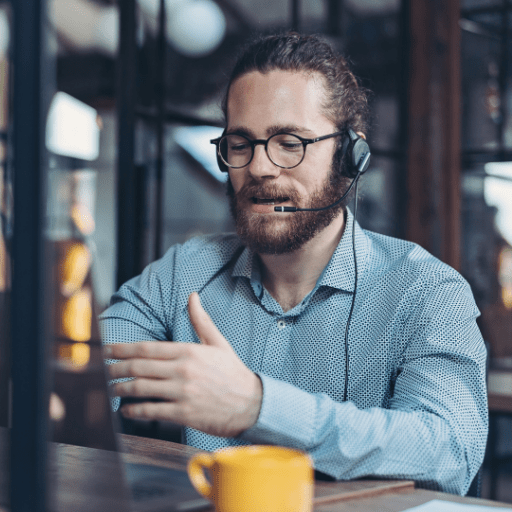 Herman A
Technical support engineer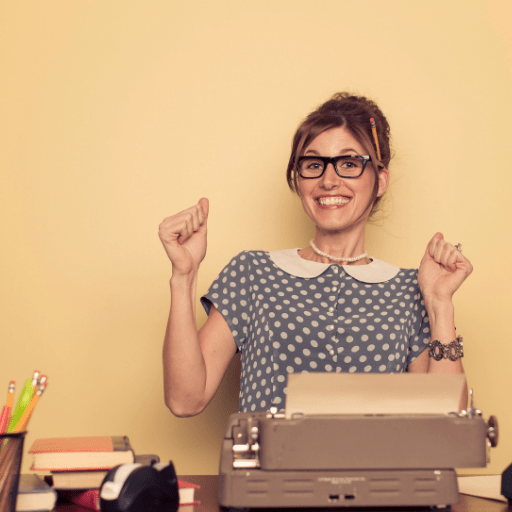 Jessica
Jessica is our super talented content & copy writer. She has written on every subject possible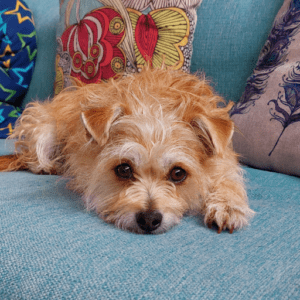 Oscar
Back up team for light relief. Oscar keeps the
Lead Logics was very easy and professional to work with. The final website that was presented to us exceeded our expectations.
We wouldn't hesitate recommending Lead Logics to anyone in need of website design.
Chris Graham, Hyplane Constructions, Pakenham

Lead generation is what saved us during lockdown when we couldn't offer electrical services. Chriss called out of the blue to see if we could work together for oven repairs and we haven't looked back since. Easy to work with and we are thrilled.
Luke, Oven Repairs Geelong and Oven Repairs Services, Geelong

I have worked with Lead Logics since the beginning of the year and Boy!!! am I so glad I found this company. The depth of knowledge and help that I have received is immeasurable.
You know that expression, you don't know what you don't know – well that was me. I have learnt so much about website promotion and marketing that I did not even know existed.
Without Lead Logics I would have been one of those unnoticed websites languishing on page 3. I am so grateful for their patience and belief in me.
If you need help – you are crazy to go past Lead Logics. Thank you SO much guys. Judi Pay We Are Phillip Island and Gippsland Directory
Judi Pay, We Are Phillip Island
Chriss had built Lakeside Heating and Cooling for our friend and we felt confident hiring Lead Logics for our new bathroom renovation website.

We had an old site which was pretty bad and didn't get calls from. We are now getting regular calls and very happy with the website performance! Thanks so much!
Tim, Absolute Bathroom Renovations, Cranbourne

Chriss from Lead Logics designed my website McGregor Building and in 5 months I was getting calls for building work. She was really easy to work with and understood exactly what was required.
Hamish McGregor, McGregor Building, Ballarat

We are loving getting conveyancing leads everyday. We've been able to successfully expand our business, employ another staff member and expand the reach of our conveyancing company. The lead generation model Chriss offers is amazing, highly recommended.
Jenny, That Conveyancer, Victoria

Request Your Website Strategy Session Now
6 Steps To Your Website Design for Success
1. Let's Meet Over Coffee
Let's meet for a coffee and understand you, your goals and your business and see if we are a good fit together. What's needed to help your business succeed?
4. It's Time To Build Your Dream
It's time to creatively bring your website design to life. We integrate SEO right from the start so Google will understand exactly what your business offers.
2. Your Business Assessment
We will dive deeper into understanding your business,creating a targeted digital strategy to enhance your online presence for success in the future.
5. Your Website Is Set Live
We work very closely with you every step of the way so you have every opportunity to review your website. We want you to LOVE your online business! 
3. Who Are Your Competitors?
In 2 words. Market Research. Our team get to work studying your direct competitors. What are they ranking for, how well are their websites designed, backlink structure and a whole lot more. This instantly sets your website apart from your competitors.
6. Tracking Visitors
Websites take between 6 and 18 months to rank. That's the reality of a wellmade, solid website.Now it's time for your website to get to work. Our SEO analysis and tracking will give us a detailed view of your website's performance.